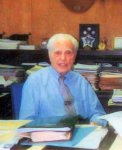 George H. Bruce
George H. Bruce was the founder of Aladdin Middle East, Ltd. A former director of Halliburton Oil Well Cementing Company and Williams Brothers Pipeline Company, he has participated in the Turkish oil exploration and drilling scene since 1960.
A resident of Wichita, Kansas Mr. Bruce was one of the senior, independent oil and gas operators in the midcontinent region of the United States. Mr. Bruce's early training and education was as a geologist and economist. He was an emeritus member of the American Association of Petroleum Geologists-AAPG, having been a member of the Association for over 65 years.
He was employed by Cities Service Oil Company from 1923 to 1926. In 1926 he helped form Aladdin Petroleum Corporation, serving as its president until his death. Under his direction, Aladdin conducted exploration activities and developed extensive oil and gas holdings in Kansas, Oklahoma, Texas, Colorado, New Mexico and elsewhere in the United States as well as Turkey, Australia, West Africa and the Caribbean.
In Turkey, he saw Aladdin Middle East Ltd. (AME) grow from an idea to become Turkey's largest and most experienced independent oil producing and oil well contract drilling firm.